Introduction to SEO
Do you want to learn SEO?
When you read or hear SEO. The first question which hits your mind is What is SEO? So let's discuss SEO in detail.
What is SEO?
SEO stands for Search Engine Optimization.
In simple words, SEO is the process to make you and your website discoverable(reachable) when people search for the topics you have on your website.
Why should I learn SEO?
When you become an expert in SEO, then you will gain a lot of free traffic from search engines.
At the same time, SEO is a long-term game. You cannot expect a lot of free traffic in the short term.
SEO takes at least 6 to 12 months to gain free traffic from search engines.
On one of my Websites, I get more than 22.4 K clicks through Google Search only.
It is like planting a tree, if you want to get fruits, then it will take 5 to 10 years. But for getting fruit, you have to plant a tree now.
Why do we need Search Traffic?
Organic Traffic is free and of high quality, because this is inbound traffic. People will search for a keyword, and find us on search engines for that particular keyword. So, this traffic is of high quality.
Online Presence is very important these days, when people want to discover you or search then you should have your presence online. And this can be achieved using SEO.
Inbound traffic: People are looking for us
Outbound traffic: we are looking for people
How to Generate leads from Organic Traffic?
As Digital marketers, we should know the importance of Lead generation. So, now the question is how to generate leads from organic traffic?
We see, most of the websites drive traffic from search engines but they don't focus on Lead generation and ultimately the loss the High-quality traffic.
So, when you drive traffic to your website then you should try to convert them into your lead. And it can be achieved using Optin Tools. If you are a WordPress user, then you have many plugins, that can help you to take the Name and Email address from the user.
Organic Search vs Paid Ads Search
If you search on Google often, then you may know that the paid ads listings on search have Ads written before the URL. And most of the people won't click on the ads. People prefer the Organic Result more than the paid Ads results. It is said that Organic search listings get 100x more clicks than paid ads listings.
So, for this, you have to work on Your Organic traffic, and of course, it can be done using SEO.
Short tail Keyword vs long tail keyword
Short tail keywords are search phrases with one or two words. On the other hand, Long tail keywords are 3 or more words phrases.
Short tail keywords are less specific, have high competition, and have high CPCs. On the Other hand, long-tail keywords are specific with low competition and low CPCs.
For example, If you want to use Digital Marketing as a keyword, then Digital Marketing is a short tail keyword. Digital Marketing Courses in Hyderabad, or Digital Marketing Courses Online, Digital Marketing internship Program, Digital Marketing agencies in Hyderabad, etc., are the long-tail keywords.
From the above example, it is clear that long-tail keywords are more specific, and you can have high-quality traffic by using long-tail keywords.
Power of SEO
In the last 12 months, one of my websites Bajrai Online Solutions got 3.58 M impressions with 59.7 K clicks. And it is just from google web search. Look how much Organic Traffic Bajrai Online Solutions is getting, and it is a 2-year-old website only with not a specific niche.
The traffic will be of high quality because they searched for it, and they wanted to know it. So, we are fulfilling their requirement.
If, I run paid advertisements and want to generate 59 K leads, if the cost per click is Rs. 10, then for generating 59 K leads, I have to spend Rs. 59,000. That will be too much. Thanks to SEO, I am getting it free.
So, this is the power of SEO.
On the other hand, if you look at the different channels from which Bajrai Online Solutions, is getting traffic, then you will come to know that more than 64% of its traffic is Organic.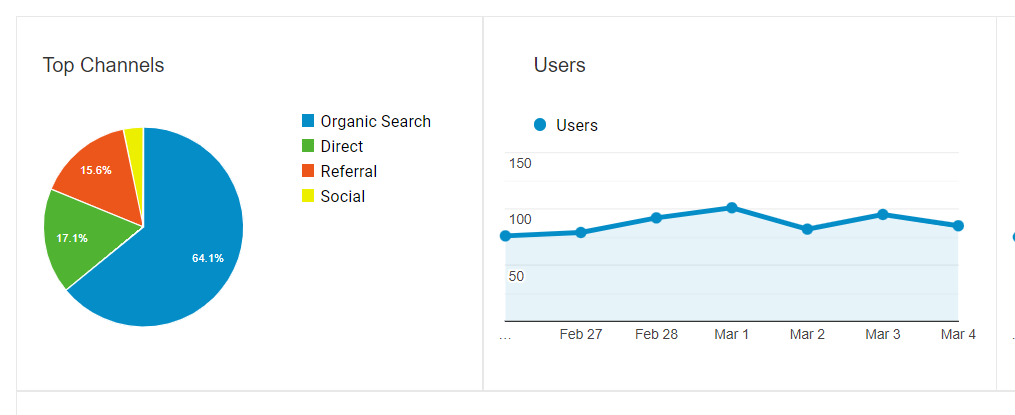 What is a Search Engine?
A Search Engine is a web-based software program that helps people to find the information they are looking for Online.
This information can be searched using phrases called keywords.
In the olden days, the days before the Internet, people use yellow pages, for the phone numbers of different professionals, and organizations.
We can see Search Engines as the evolution of These yellow pages.
"Search Engines are Demand Fulfilment agent"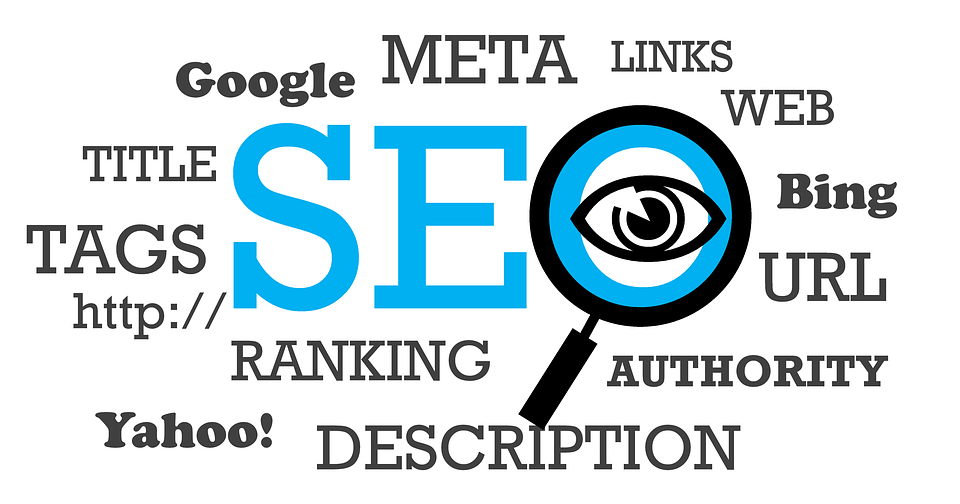 Search Engines are demand fulfilment agents, not demand generation agents.
For example, you want to know about SEO.
You opened your browser, and you typed What is SEO? in the search engine, mostly in Google.
So you have a need, you searched for it. And the search engine displays the results.
So we can say that People only search for the things they heard about it or they know, if they didn't hear about it they won't search about it. And search engines won't display results about it.
By this, we can say that Search Engines are demand fulfilment agents.
What Search Engine displays?
To answer this question first we have to understand what people search for?
Because search engines are the demand fulfilment agents as discussed above. So they show, those things that people search for.
People usually search for Content, products and services.
Content may be any helpful information, reviews, entertainment, news etc.
Can I advertise a new product on Search Engines?
A new product or service whose brand awareness is nill cannot be advertised on Search engines, because there will be no search regarding that product or service.
In this case, if you want to advertise your new service or product, then you have to create awareness about that product by means of different advertisements like Facebook ads, TV ads etc., then you can advertise the product or service on search engines.
At the same time, you can target the keywords which are relevant to your service or product and then advertise targeting those keywords.
Do we have Search Engines other than Google?
Yes, of course, we have many search engines other than Google. But Google is the giant in Search Engines now.
Top 7 Search Engines
The top 7 Search Engines are
Google
Bing
Yahoo
MSN
Ask
Yandex
Baidu etc
Niche Search Engines
Other than these Search Engines, we have niche-based search Engines also.
1. Amazon is a search engine of products,
2. Zomato is a search engine for restaurants,
3. Practo is a search engine of doctors
4. SearchOnMath is a Mathematical formula search engine
5. Social-searcher is a Social media search engine.
Similarly, Facebook, Twitter, and YouTube are also niche search engines.
How do Search Engines Work?
As described above, Search Engines are Demand fulfilment agents.
Now the primary purpose of search engines is to fulfil the demand of the user. And of course, this demand fulfilment should be relevant results as well as quality results.
Both Relevancy and Quality is the key to search engine results.
If a search engine fails to deliver relevantly and quality results then people won't use it.
Why Google is most used Search Engine in the World?
That's Why Google is the most used Search engine in the world because it gives relevant and quality results.
Understanding importance of Relevancy in Search Results
Suppose, you searched for Restaurants in a search engine, and the search engine gives you results about the shops or anything else, other than restaurants. Then these results are not relevant to your search query.
And of course, you won't waste your time on these types of search engines which give you irrelevant results.
There are different levels of relevancy.
Suppose you want to search for Hyderabadi Restaurants, and the search engine displays Chinese Restaurants. Here, the search engine is displaying the results of Restaurants but it is also not relevant because we searched for Hyderabadi restaurants and it is showing Chinese restaurants.
By this, we conclude that Relevancy is one of the important things in Search Engines.
On the Other hand, Quality results are also too important.
Suppose you are searching for Hyderabadi Restaurants, and the search engine shows you the results of Hyderabadi Restaurants only,
but those restaurants are far from you, or the restaurants shown have bad user ratings or experience.
Then this result is relevant but the quality of search engine results is not good.
If any search engine is not giving quality search results then you won't use that search engine.
To attain relevancy we have On-Page SEO, while to attain quality, we have Off-page SEO.
What is On-page SEO?
On-Page SEO is the practice of optimising individual Web pages for search engines and users to rank higher and earn more relevant traffic.
To display your Web pages to relevant searches.
Search Engines need to understand what your website is about.
That's why, the title of the website/webpage, description of the website, and keywords in the content is very important.
It is the duty of the webmaster to inform search engines about its website, its content and its description.
To communicate with search engines, we have Google Search Console.
Google Search Console is the medium of communication between webmaster and Google Search Engine.
What is Off-Page SEO?
For good quality results, we have Off-page SEO
Off-page SEO is all the things a webmaster does to improve SERP position outside the website. It may be Backlinks from forums and other websites. Average time spent by users on your website. How many websites link your website for a particular keyword, etc.
How Search Engines make money?
Basically, Search Engines display two kinds of Search Results.
Organic results
Paid results
1. Organic results are natural results. As discussed above, these are the results search engine displays that are relevant to the search query of the user. And, the businesses don't have much control over these results. Just they can do SEO for better ranking but in it, they have too much competition.
2. On the other hand Paid results, are placed by Business owners related to the search keywords of their niche. Whenever, someone search with the keyword, Search Engines display paid ads with a prefix Ad or Sponsored written on them. Whenever someone clicks on it, the amount from the advertiser account is deducted. We will discuss paid ads in detail when we discuss Google Ads in our future posts.
So, Search Engines mainly earn money from paid ads. These ads display both on the search engine results page and on the ad network that is associated with search engines.
84% of Google revenue of 2019 came from ads only.
The Search Ecosystem
There are 3 parties involved in The Search Ecosystem
Search Engine
Business and
Users
The Search Engine provides platforms for businesses as well as users. Users can search their queries and the businessmen can target their customers based on keywords they search.
By this, Search Engine acts as mediators between Businesses and Users. Users want services and Products, so they searched for them on Search Engines. On the Other hand, Businesses want customers, so they list their products or services based on the keywords user searched.
Basically, The Search Engine is totally free for the users, but for businesses, or premium businesses they charge for premium results in the form of Ads.
Note: Getting customers is the primary goal of any business. If a business gets customers by paying some amount on ads, then they will definitely pay for it.
On-Page and Off-Page Optimization
On-Page SEO
As discussed above, On-page SEO deals with the relevancy of data.
The Title, Meta description, Image Alt Tag, Page Speed, Keywords in the content come in On-Page.
All these things are necessary for On-Page SEO. Because by these things only a search engine can understand what the website or webpage is about. And, This is very important for providing relevant data.
For example, Images, Search Engines cannot identify what the image is? So if you provide an Alt tag, and write about the image. Then, by this alt tag, the search engine will be able to understand the image.
We will discuss all these topics in detail in our future posts.
Off-Page SEO
As discussed before, Off-Page SEO defines the quality of the result. It is not completely in the hands of the webmaster. But, a webmaster can follow these things to optimize Off-Page SEO.
The No. 1 Off-Page SEO technique is getting backlinks from the Good Rank websites. Because the quality of the website can be known by the number of websites linking that website. If for a particular keyword thousand people referring a website, then Search Engines will think that this is a good website.
If you are a WordPress user, you can have a look at the features of All in One SEO.
Keyword Research
Keyword Research is one of the important topics when it comes to SEO.
What are Keywords?
A keyword is a word or set of words, users use on the internet to search for their queries in a search engine.
As keywords are the words used by users to search in search engines, then these are very important to know and use in our Website.
There is a misconception that Keywords are only for SEO, but as discussed above, keywords are the words that users search. So, for your website or content to be available in search engines. You have to go for keywords.
We will cover this topic in our future posts where we will focus on keywords and their tools.
SEO Freelancing:
SEO is one of the highest in-demand services in the industry. And many businesses don't know the ABCD of SEO. Just they make the website and put some basic content.
Usually, SEO is combined with Content writing. SEO Content writers will fetch more earnings when compared to only Content Writers.
So, SEO Content Writers have the upper hand in the industry.
To Know more, Subscribe to our blog and email us for SEO services.
If you find this article helpful, do like and share it on Social media. If you have any feedback, then do comment.
Conclusion:
In the end, I will say that SEO is one of the very important topics of Digital Marketing. One should spend time learning it and mastering it. And, you will master it, by implementing your learnings only.
In this article, we learnt What is SEO? And the importance of SEO in digital marketing.