What Is a Customer Avatar?
A Customer Avatar is an individual person who represents your target customer. It is also referred to as customer profile, buyer persona, or marketing persona.
For marketing the products or services you have to know your ideal customer first. You need to know
what are the goals of your customers?
what are their pain points? 
What are the fears they are having?
What are the challenges they are facing? And so on. 
If you know such details, then you can market your customer well. Your customer will feel like you are talking to him only.
A Customer Avatar can be a real person or a fictional person as well. 
what a customer avatar is:
Customer Avatar is
An essential part of your marketing strategy
A real or fictional individual
A detailed profile of your target customer who has needs, pain points, fears etc
If you workout correctly then you will know
The needs of your targeted customer
His pain points
His source of information
His hangout places etc
Who Should Have a Customer Avatar?
This is the most commonly asked question. The answer is:
Every business whether it is big or small should have the Customer Avatar. 
Even Big organizations should also have customer avatars for their reference. Because for scaling up the business, and for retaining old customers, and gaining new customers, you should have your targeted customer profile, and this can be achieved through creating a customer avatar.
Do Big Businesses require a Customer Avatar?
Most importantly, the organizations which are in the Business for years should update their customer avatar, as the elements like desires, goals, source of information, pain points, and fears will change from time to time. 
Do Only Profit Making Organizations Make Customer Avatar?
Customer Avatar is not only exclusive for Profit-making organizations but also they are important for NGOs, Mosques, Churches etc.
These NGOs can reap great benefits by making their customer avatar.
Why Do You Need a Customer Avatar?
By the above discussion, you might understand the need of making a Customer Avatar for your business.
Every business needs customers who spend big, make recurring purchases, and promote the business through word of mouth.
For this, you need a customer avatar. By having an accurate customer profile, you get the opportunity of sending appropriate emails to your targeted customer. Like
Content Marketing:
Content marketing is one of the most powerful tools for getting the attention of customers. If you know your customer well, then you can write content which focuses on the desires and needs of your targeted customer, and it solves his problems and also it touches his pain points. By this, you will get the attention of your customer, and increase in avg time of page views. The customer will feel that you are talking to him only. And it will build trust with your customer. 
Email Marketing:
If you know your customer then you can send them personalized emails as per their needs, and desires. Your email copy has the solution to their problems. Your email copy will get rid of their fears. By this, you can have an email with more open rates and then you will increase your email CTR also, which ultimately generates leads for your business. 
Paid Advertising :
By creating a Customer Avatar, you will know where your targeted customer is spending more time like Facebook, Instagram, LinkedIn etc., then you can do paid advertisements according to his/her hanging places. This will improve your paid ads CTR, and ultimately you catch the attention of your customer. 
Product or Service Development:
As you know the pain points, and desires of the customer, then you can make the product according to the desires of your customer. As products and services are only for the customers, then creating Avatar will make it easy for you to make products or services as per the demand from your customers. This will definitely scale up your sales. 
At last, having a customer avatar is a great practice for getting leads, building trust with them and finally converting them into Customers.
How to Create Your Customer Avatar
What topics to include while making a Customer Avatar?
There are 5 major components to a customer avatar:
Goals and Values:
While creating your Customer Avatar, you should collect the Goal and Values of your targeted Customer. 
Whether you are running a survey or you are creating by your assumptions,you should fill out the Goals of Your Ideal Customer. 
What are their Goals and What do they want to achieve? 
Then what are their values ie., What values they are providing by their products or services?
Sources of Information:
The other important thing is from where your Ideal customers are getting information?
Where do they spend their time both online and offline?
What materials like blogs, QnA websites, and magazines do they read? 
What Tutors or Guru do they follow? 
Demographic Information:
Demographic information also plays an important role in the purchasing of your ideal customer. So you should also have demographic information of your ideal customer. 
Demographic information contains
Age
Gender
Marital Status
No. Of children
Children Age
Annual income
Location
Occupation
Job Title
Favourite quote etc
You should have all this information about your ideal customer, and it will help you to have a clear picture of your ideal customer. 
Challenges and Pain Points
Challenges and pain points are also considered as one of the important points when it comes to creating your customer avatar. 
You should know What Challenges he is facing with the services or products he is using? 
What are his pain points? 
What are his problems with the current service or product? 
If you have answers to these questions then you definitely attract your ideal customer with your emails and ad copies. 
Objections and Roles
The next important question answers you should have while creating your customer avatar are the objections and roles. 
Why your Avatar doesn't Purchase your service? 
And the next thing is
What is the role of your Customer Avatar in purchasing? 
These are important questions, every business should have to do this for attracting their ideal customer.
For this, you have to do
Research
Fill out the Customer Avatar Worksheet
Repeat the process as per your needs
Customer Avatar for Educational Institutions
Now, jumping back to our main topic ie., Customer Avatar for Educational Institutions.
Like all other businesses and organizations, Educational Institutions also need to create Customer Avatars for their Institutions. 
Basically, we can Divide Educational Institutions into 2 types
School, Colleges, Universities and
Private institutions
You need to create a Customer Avatar as per the Educational Institution's need. Let's create an outline for Educational Institutions' Customer Avatar
Creating Customer Avatar for Schools: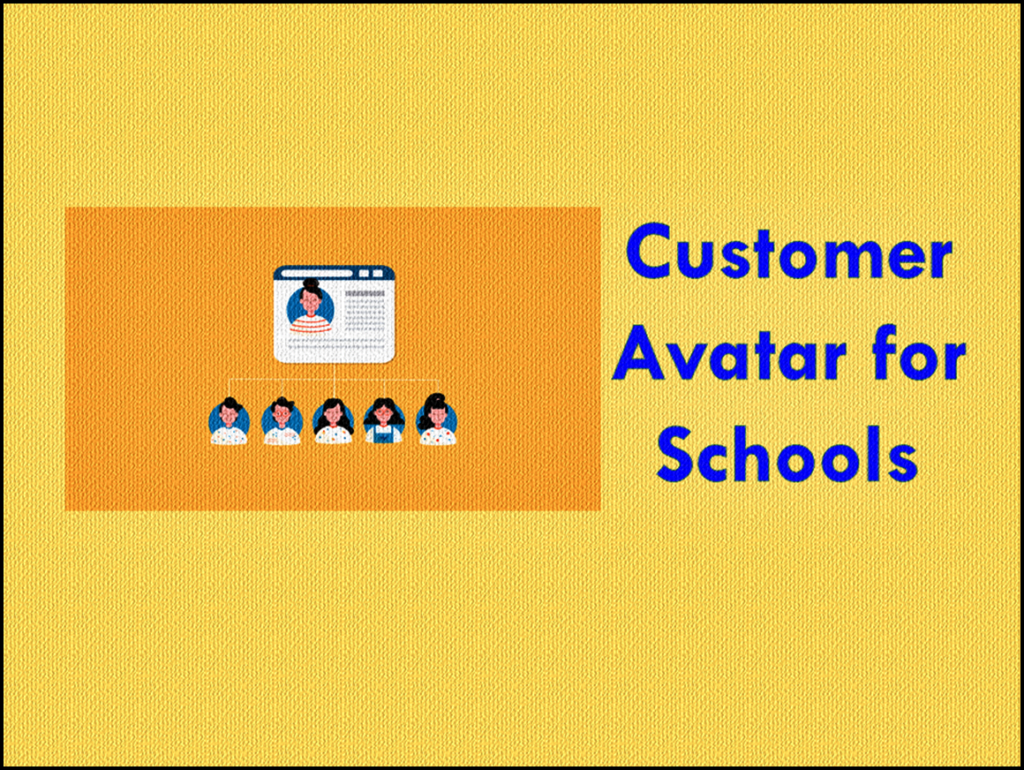 Schools are the basic need of each and every child. For an Educated nation, we need schools. 
Nowadays we have many types of schools like government schools, public schools, convent schools, international schools etc.
All the schools have their own customer ie., student preferences.
Some of them are costly schools, and average parents can't afford them. 
On the other hand, some of the schools are cheap, rich parents don't want to send their kids to these schools.
And we have government schools also, where education is free.
Customer Avatar for High Standard Schools
If you are running a high standard costly School, then
The goals of your Ideal Customer (ie., parents) will be 
Best Education,
Good Infrastructure
English Speaking Environment
Transport Facility
The parent wants to inculcate good values in their children
Source of Information :
The source of information of High Standard School's parents are Magazines, Quora, Google, and Facebook Groups. 
Demographic Information :
As discussed above herein demographic information you have to take their personal information. 
Since it's a high standard school, then it definitely has a transport facility. So no need to worry about the location, until and unless it is in the same city. 
Challenges and Pains of High Standard School's parents:
Basically, The Customer Avatar of this type of school doesn't have a problem spending money on the education of their child. 
They face challenges in the Holistic growth of their kid. 
The challenges are
Quality Education
Overall growth
Public Speaking skills etc
The pain points of these schools' parents are
Schools aren't delivering what they say
School environment
Kids holistic growth
Roles and Objections
Basically, both the father and mother can make decisions regarding the admission of their kid into the school. In the education department, normally moms have the upper hand in making decisions. 
Customer Avatar for Schools
Don't Forget to Download Free Sample Of Customer Avatar for Schools at the end
All The schools other than Convent Schools, and International Schools, will focus on middle-class families for admission of their kids. 
So here is the customer avatar for all the schools
Goals and Objectives of parents
The Goals of the middle-class parents while selecting a school will be
Quality Education for their kids
English speaking Environment
Holistic growth
The parents want to inculcate the following values in their kids through School
Source of Information of the Parents
Basically, the main source of information for parents while admitting their children will be
Newspapers
Local School
Family and Friends
Facebook & Instagram
Demographic information of parents:
As demographic information in this type of school's customer avatars will be
Location nearby
Number of kids
Occupation etc
Challenges and Pain points of Parents
While admitting the child to school, basically parents face these challenges
Quality of Education is Not Good
Doesn't Provide Speaking English Environment 
Infrastructure is not so good
Pain points of Parents while admitting their child might be
High Fees
School environment etc
Roles and Objections :
As usual, the Parents are only the decision-maker for admitting their kids into the Schools. 
Similarly, you can have a customer avatar for your college, university and private institute. 
You can also take the help of question and answer websites like Quora, and Google reviews for understanding your customer avatar. 
Besides this, you should make your performa and ask the parent to fill it both online as well as offline. 
Until the completion of your survey, you can have the Customer Avatar as per your experience and research. 
Takeaway
Remember:
Customer Avatar should be viewed as an essential part of all the business marketing strategies, as it is the key for every marketing success as well as sales success. Remember, if you understand your ideal customer , then only you can attract more people who fit your ideal customer profile.
So, Knowing
Who your ideal customer is?
What does he want?
Where does he spend his time?
How your school can address his problems?…
So, all these make a huge difference in your niche, when it comes to focusing your marketing efforts—and working toward growing your business. 
So, download a free customer avatar sample and get to work! And remember, you can always reach out to me for help.